Fabergé: Moscow-London
Posted in Exhibitions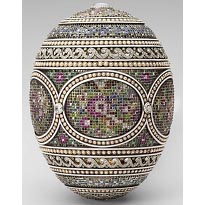 Fabergé… Who does not know this name? For a long time it has been a synonym
for elegance and the highest skill, splendour and luxury. Fabergé was the largest
jewellery enterprise in Russia in the late 19th and early 20th centuries, with
branches in Moscow, Odessa, Kiev and also London. The business manufactured a
huge amount of various goods from jewellery and articles of precious stone to
cutlery and silver utensils. There were unique works of art, never repeated, as well
as products tailored for a wide range of clients amongst the items produced by the firm. However, it is the Easter eggs containing surprises made to order for the Russian emperors Alexander III and Nicholas II that brought fame and worldwide recognition to Fabergé.
The first egg was crafted by Karl Fabergé and his jewellers in 1885 in response to an order from Alexander III for his wife, Empress Maria Fedorovna. They created an exquisite white enamelled shell which opened to reveal a golden hen which in turn contained a small crown with a ruby. Empress Maria was so delighted by this gift that the emperor commissioned Fabergé to make an egg with a surprise in it every year. The Fabergé House also made some larger eggs for a few select private clients who longed to possess one of these exclusive pieces of jewellery. These clients included the Kelch family, Felix Yusupov, Alfred Nobel's nephew and the Rothschilds. Overall, we know about 71 eggs made by Fabergé, 54 of which were for the Imperial family. Of these, 62 have survived, and 46 of them are Imperial eggs. Nowadays some of these astonishing and beautiful objects can be seen in their historical homeland in Russia, in the Armoury Chamber of the Moscow Kremlin, in the museum exhibition of the cultural and historical fund "Link of Times" created by Viktor Vekselberg, the Russian oligarch, and in the Mineralogical Museum named after A.E. Fersman of the Russian Academy of Science. The royal collection of Queen Elizabeth II includes the Imperial Eggs "Basket of Wild Flowers", "Colonnade", and "Mosaic" as well as "the Twelve Panel Egg" originally owned by Kelch. . Other Fabergé eggs can be seen in museums in the USA and in Switzerland, and some are held in private collections.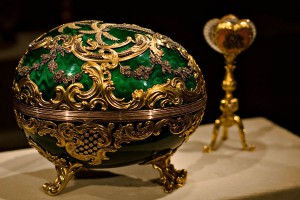 As for the other pieces of jewellery by Fabergé, you can find them in many state museums of Russia especially the Armoury Chamber and the Hermitage, and also in the USA and Great Britain and in private collections. If we are talking of London you can drop into the famous Wartski store, these days located near Berkeley Square. In May 2012 it hosted a special exhibition of Fabergé works where one could feast one's eyes on cases full of smoked crystal or jade, imperial chairs, upholstered in yellow, and a signed photo of the last Russian emperor Nicholas II. There is no need to explain that each of those Fabergé objects had a price tag that would buy a house.
We would like to dwell upon the passion of British monarchs for collecting Fabergé objects. The history of this passion dates back to a notebook with the case made by Fabergé, a present to Queen Victoria from Tsar Nicholas II and his wife Alexandra Fedorovna, who was Queen Victoria's granddaughter. The couple had stayed with Queen Victoria at Balmoral in Scotland earlier in the same year and during the visit Alexandra showed Queen Victoria some of her jewels supplied by Fabergé which delighted the Queen.
Queen Victoria's son, Edward VII, and his wife Queen Alexandra, who was the sister of the Russian Empress Maria Fedorovna, were ardent admirers and collectors of Fabergé's artwork. At first, they collected the Fabergé pieces given to them as presents on different occasions by members of the Russian royal family. When Fabergé opened a shop in London they started acquiring Fabergé pieces of work for themselves. It is even known that Queen Alexandra retained the exclusive right to be the first person to view Fabergé specialties which had just arrived from Russia. In his turn, King Edward VII would hint to the court nobility that there were some new objects at the Fabergé shop and it was not unusual for him to get those pieces as presents some time later. Anyway, those presents were elegant but comparatively inexpensive things such as valuable fancies, photograph frames and cigarette cases.
Edward VII also commissioned the Fabergé House to make figures of all the animals at the Sandringham estate farm. As a result of several months of work, Russian jewellers carved the figures of race horses, dogs, doves, piglets and donkeys out of gems from the Ural Mountains. These figures were presented to Queen Alexandra who was truly enchanted by them. From then on, the British royal couple only bought figures of animals from the Fabergé shop. Consequently, the Queen became the owner of a large collection of carved animals which even included the portrait of the terrier Caesar, a favourite dog of Edward VII. In addition, the royal family was actively collecting semi-precious stone flowers by Fabergé and amassed a collection of more than 20 pieces including branches of raspberry and cranberry, wild cherry, rowan, field daisies, chrysanthemums, carnations, pansies, and a miniature pine tree in a pot of jasper. Today all this magnificence is part and parcel of the Royal collection.
King George V, the son of Edward VII, and his wife Queen Mary continued to enjoy collecting Fabergé masterpieces, and it was they who purchased the three Imperial Easter Eggs in the collection – the Basket of Flowers Egg, created in 1901, is an egg made in the form of a basket of flowers, covered with iridescent enamel and gold bars with diamonds, and the flowers themselves were made of gold and covered with pink, white, dark blue, orange, and purple enamel, – the Colonnade Egg Clock, created in 1905, which was made to commemorate the birth of the long-awaited heir to the Russian throne, is an egg-shaped clock, covered with transparent pink enamel and supported by a colonnade of six columns, at the base of which sit four cherubim, representing the four daughters of Nicholas II, – and the Mosaic Egg, created in 1914, is entirely covered with sapphires, emeralds, diamonds, rubies and pearls in imitation of cross stitch on a platinum base with a surprise – a cameo with profiles of five children of Nicholas II. These three eggs are included in the Royal collection of Queen Elizabeth II.
Many of the Fabergé pieces described above can be seen with one's own eyes at the exhibition "Treasures from the Queen's Palaces", shown in the Queen's Gallery, at the Palace of Holyroodhouse in Scotland from 16 March 2012 to 4 November 2012. The selection of works for the show has been made from the entire breadth of the Royal Collection, from eight royal residences. The highlights of the exhibition include paintings by Rembrandt, Canaletto and Nash, drawings by Leonardo, Michelangelo, Raphael and Holbein, and, of course, the Imperial Easter eggs by Fabergé. Apart from the Easter Eggs you can admire some other wonderful creations by Fabergé, namely cigarette cases, kovsh, and miniature frames with photographs.
Finally, to admire the beauty of Fabergé, you can pop in a contemporary Fabergé shop, located in Grafton Street in central London. The most interesting thing there is a collection of pendants, executed in the style of the Imperial Easter eggs. However, be aware that the price of these jewels starts at £62,800…
Comments & Questions